ARM's Director of Engineering, Research, and Technology Transfer recognized for distinguished service by NRRA.
Glenn Engstrom Receives Distinguished Service Award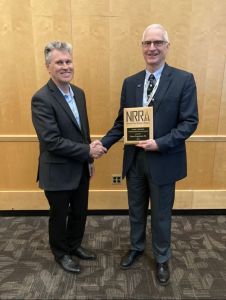 Congratulations to Glenn Engstrom on receiving the Gerry Rohrbach Distinguished Service Award from the National Road Research Alliance at the 2023 Minnesota Transportation Conference and Expo in May. (Glenn pictured nearby receiving the award from Ben Worel, NRRA)
Glenn joined ARM of Minnesota in 2022 after decades of achievements with MnDOT culminating in his most recent role as the agency's Director of the Office of Materials and Road Research (OMRR). In this position, Glenn provided overall leadership and administrative guidance to the 125 employees of OMRR, which provides technical expertise in the areas of materials testing, pavement management, geotechnical engineering and pavement research to MnDOT, counties and cities.
The NRRA service award is dedicated in honor of Gerald J. (Gerry) Rohrbach. Gerry was an integral part of MnDOT for more than 35 years. He retired as the Director of the Office of Materials and Road Research. He previously served as Director of Technical Support, the department's Pavement Engineer and in other managerial and engineering roles within MnDOT. Gerry's expertise in the field of pavement engineering was well known both nationally and internationally. He served on the AASHTO Subcommittee on Materials and participated in numerous TRB committees and international scanning tour panels dedicated to the advancement of pavement technologies in Minnesota and around the world. His knowledge and expertise in the industry along with his friendly and sincere personality, made him a highly respected and trusted transportation engineer. This distinguished award is given annually at the NRRA Pavement Conference by the NRRA planning committee to individuals giving exemplary service to the customers in the areas of transportation and pavement engineering.