Minnesota Congressional Visit with U.S. Rep. Michelle Fischbach on Aug 17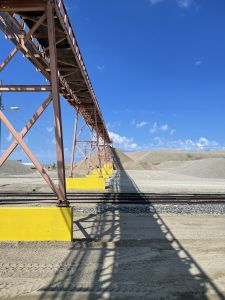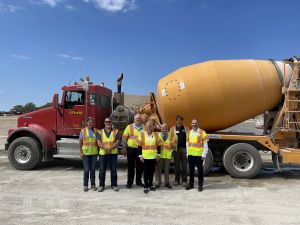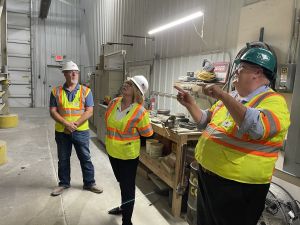 Congresswoman Michelle Fischbach visited Strata's Detroit Lakes facility on August 17th to gain a clearer understanding of aggregate and concrete materials production, to visit with the industry about our concerns, and to discuss how federal policies and legislation might better improve the business climate for our industry in Minnesota. The event was hosted by Strata Corp., ARM of Minnesota, and the National Ready Mixed Concrete Association.
Immediately upon her arrival at the Strata facility, the Congresswoman was met with the opportunity to do a live interview on one of the upper plains most popular radio programs. The "What's On Your Mind" program hosted by Scott Hennen is broadcast across several stations in western Minnesota, throughout North Dakota, and even into eastern Montana. The Congresswoman's radio interview was a follow-up to the previous day's "What's On Your Mind" program that featured four different interviews with representatives of the construction materials industry. The program covered the opportunities and challenges facing our industry. Interviews were conducted with John Cunningham (ARM of Minnesota), Andrew Tyrell and Gregg Lewis (NRMCA), Tim Hostettler (CIM Program Director), and Alf Gardiner (Braun Intertec).
Following her radio interview, the Congresswoman toured Strata's extensive facility to gain a better understanding of how construction materials move through the production process from the mine to the mixer truck. Rep. Fischbach was clearly impressed, not only with the extent of the process, but also with the care that is taken to lessen impact on the natural environment. The Congresswoman was able to tour both active and reclaimed sites on the Strata property, which also served to provide her with a very good understanding of our land use practices and potential hurdles.
The day's events closed with a Q&A with Rep. Fischbach during lunch. Industry representatives were able to have an extensive discussion with Congresswoman Fischbach over the following issues.
The societal importance of the construction materials industry
Work force recruiting and immigration policies
Land use challenges and needs for better planning and zoning practices
Innovations aimed at minimizing the impact of our products on climate change
Industry representatives made one final request of Rep. Fischbach before she departed for the day. We asked, and she agreed, to join the Congressional Cement Caucus. It was the perfect way in which to say goodbye to the Congresswoman and to close out the day.